Artwork & Graphic Design by Gwen Cleveland, David L. Hubbard
EXPLORATION LOG #1
Here we all are, still "under construction," and still in an 'Exploration of the Spiritual Universe' after all these years. We hope you'll join us now in developing search engines that look for Truth, Beauty, Goodness, and even compatibility in this wild world.
I believe that the Urantia Papers, A Course in Miracles, The Pathwork Guide, and our Teaching Mission and Magisterial Mission lessons will blend nicely to answer most of your questions about human life and fate. Of course, I'm still exploring them myself and also looking for other higher perspectives in my remaining time.
In our time, new spiritual guidance is coming day by day and hour by hour to help us build a new world of reason and caring. We will keep looking for it. As we can assimilate, we will be given greater insights and more wisdom.
As site Editor, I will try to manage here until younger and better hands come along. Our immediate task is to effectively manage and grow the search engine software and hope that we can keep it running smoothly.
We're also gleaning more historical material, including disks, video and audio, even paper, in order to present a more complete picture of the Teaching Mission development years.
As for today ... Our Magisterial Mission Editor Roxanne Andrews will keep us abreast of planetary events with new and continuing transmissions from celestial teachers, currently in an extended series with Machiventa Melchizedek.
This first log entry comes with an addenum. In our recent explorations of the spiritual universe, we read and consider the postings of Chris Maurus of www.correctingtime.org and Vicki V. at www.magisterialmission.com and always the activities of the planet's United Midwayers and their messages via George Barnard and the 11.11 network. These are great sources for your exploration and research and this is to let you know we are friends and fellow explorers.
Let's enjoy exploring the LIGHT side, the progressive side, of our tumultuous and 'quivering on the brink' world while we're here, and trust in the Universal Father and his great Wisdom to see us through. We aren't ranking the perceived value of these sources, and we aren't preaching, persuading or even promoting the narratives. They speak for themselves, and so does your own heart and mind.
We will update you with periodice log entries. If you want to discuss these celestial ideas, go to our Facebook Teaching Mission site and sign up for discourse. Meantime, I will sign my spirit name for this project and look forward to future discourse.
KEREN (jwc)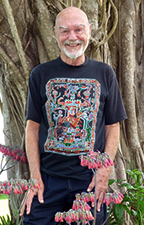 6/2019
EXPLORATION LOG #1